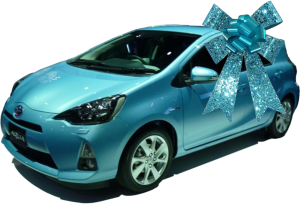 [Disclaimer: While A Pathway to Hope and Home will conduct an initial check of all vehicles that come through the We Care Car Program, each vehicle is being gifted "As-Is." Therefore, any repairs required subsequent to the gifting of a vehicle will be the responsibility of the recipient. However, listed on this site to the right is McEachern Memorial United Methodist Church, which offers free car repair services through its Car Care Ministry for individuals or families who may not have the financial resources to pay for such maintenance. In addition, I have listed a source for free gas. Finally, while it is not a requirement to receive a free vehicle, we ask that you please pay your blessing forward. To view a listing of Georgia nonprofits that could use your assistance, visit Great Nonprofits (click here). Thank you.]
One of the most important assets a person or family can own is a car for, as we all know, some of life's most simple tasks can be become headache-inducing challenges without one. From limiting employment options to making it difficult to pick up the kids from daycare or just go grocery shopping, not to mention an unexpected emergency, when you're without a vehicle life becomes much more complicated. Indeed, in today's fast-moving age, practically everyone needs a car.
The We Care Car Program is designed to address this problem by gifting nice, used cars to deserving families and individuals. Initial costs of the taxes and tag, as well as one year of liability car insurance, will be covered to make the transition of owning a car as easy as possible. Also, while a majority of the vehicles gifted will be cars, we will also try to assist those individuals or families who need a van. Finally, since we're expecting a great need for our service, all cars will be gifted on a first-come, first-served basis.
[A Pathway to Hope and Home nonprofit does not discriminate on the basis of race, color, gender, age, ethnicity, religion, national origin, or sexual orientation. If you meet the following qualifications, we will assist you. However, priority will be given to individuals and families who do not own a car. Those in need who currently own a vehicle must prove that a secondary one is necessary.]
APPLICANT REQUIREMENTS


  MUST have a VALID driver's license

MUST be a student at an accredited university, college, or trade school, employed or actively seeking employment through a registered career agency, and/or small business owner with a current business plan. This requirement is in place to ensure we are gifting cars to individuals and families who are genuinely working to change their lives. In turn, they will hopefully inspire others to do the same. Documentation will be requested and must come from a verifiable source.

MUST have NO history of DWI (Driving While Intoxicated) or DUI (Driving Under the Influence) for AT LEAST 10 years, upon application

*

Disabled Applicants - Exceptions will be made only with the second MUST statement pertaining to attending a college or university, being employed or actively seeking employment, and/or owning a small business as many individuals who face challenges that qualify as disabilities may not be able to fulfill this particular requirement. However, documentation to establish the disability will still be a mandate for reasons of federal reporting.
Each candidate must also meet at least one (1) of the following criteria to be considered for a free car:
[Income levels will be determined using Federal Poverty Guidelines - click here - for that particular year.]

  Low-income based on federal poverty guidelines


  Low-income living in a transitional shelter


  Low-income veteran or military family


  Low-income and medically needy
Please Note: A Pathway to Hope and Home does not discriminate on the basis of race, color, religion, gender, national origin, age, veteran status, disability, marital status or sexual orientation. If you need help, we are here to assist you. Sending love...